Perfect Printable PDF of this page
Home › Home Security Advice › Home Security Door Lock
Easy Home Security Door Lock Strategies

Install the very best home security door lock without breaking the bank. Follow simple steps to keep the creeps at bay so you can get on with living your life. As basic as it is to implement, having a good lock on each of your outside doors is crucial. Unfortunately, it's something that gets neglected or explained away by too many homeowners.

Make sure you always lock your doors (Photo by Alan Cleaver)
"It'll take them a few minutes to get through this door. By that time the security company will be here!"

"Yes, I've been meaning to get that lock changed, but I don't have time these days..."
These kinds of excuses just aren't good enough.

As I mentioned in my article about having a robust Door Security System, a large number of burglars get in through the front or back door of a house.

Since that's a known fact (See Marini & Blanco), it would be irresponsible NOT to do everything you can to ensure that your door locks are of high quality!

First Step: Lock Your Doors!

I've said this before in other articles on Home Security, and I'll say it again:

Always keep your doors locked!

Yes...EVEN when you're just out in the garden.
Yes...EVEN when you're just about to leave in a few minutes.

It doesn't matter if the door will only be unlocked for a SHORT while...LOCK IT!

How long would it take a criminal who has been waiting all day for you to just slip in while you are distracted in another room of the house?

Seconds.

The risk is too high, and yet thousands of people routinely leave doors unlocked for more than a few minutes for all sorts of reasons. All they're doing is making every single home security measure that they've bought and installed...

...USELESS!

Make sure you don't fall into this dangerous trap.

Best Type Of Home Security Door Lock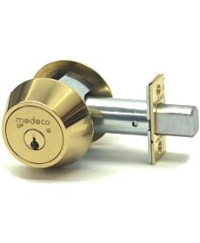 The Double Cylinder Deadbolt Lock (Photo by vflock,com)
As far as I'm concerned, there is only one type of door lock that's worth looking into for the average household:

The Double Cylinder Deadbolt

Firstly, the difference between a single cylinder and double cylinder deadbolt is as follows:

Single cylinder - Needs a key to open from the outside, but you simply turn a knob to unlock it from the inside.
Double cylinder - Needs a key to unlock from the outside AND the inside.
You almost certainly want to get a double cylinder deadbolt. If you get a single cylinder one, and you have a window near the door, or a glass panel in the door, a criminal can just break the glass, reach inside and turn the little knob to unlock the door.

The only downside to a double cylinder deadbolt is that it may be dangerous if there's a fire in the house. If you can't find the key when the house is filled with smoke, you won't be able to unlock the door and escape.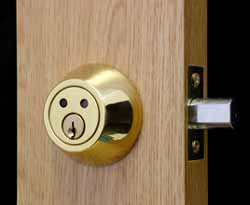 The deadbolt is the ideal home security door lock (Photo by Ronaldo Lima Jr.)
Sadly, many people die every year in house fires for this reason.
To avoid this risk, either:

Have the key hanging on a hook near the door (make sure it's not near an open window!)
Wear the key on a lanyard / cord around your neck
Strike Plates And Deadbolt Length

Having a good deadbolt as a home security door lock is a good start, but it's not enough if the strike plate (the metal plate that the deadbolt goes into when you lock it) of the door is flimsy or only fastened with short screws.

For maximum security, buy a nice, thick steel strike plate to go with your deadbolt lock. Some deadbolts may be sold WITH such a strike plate as part of the package. If not, it's worth the trouble and the expense to buy one.

Make sure that you attach the strike plate to the door frame with LONG screws (at least 3 inches / 7.5 cm) that go all the way into the stud (the thick wood or metal surrounding the door frame). If the screws are too short, it's very easy for a burglar to kick in the door since the screws just break out of the wood.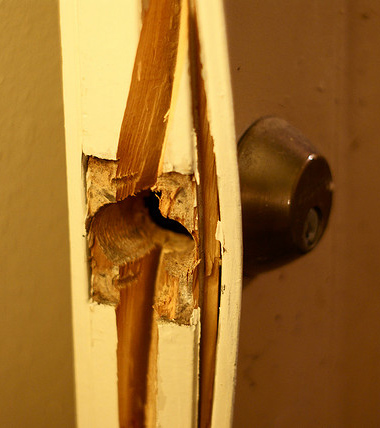 A door that's been kicked in by a burglar (Photo by Chris Moore)
The deadbolt should also be long enough to be secure. It should extend at least 1 inch (2.5 cm) into the strike plate of the door for maximum strength.
Don't Rely On Door Chains

A truly useless invention for home security is the door chain. You may have been guilty of trusting your safety to one in the past (haha), but I hope you'll stop after reading this article!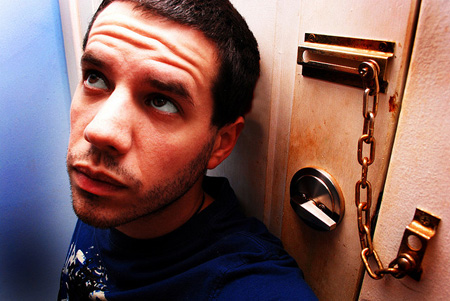 Don't trust a door chain to protect you (Photo by Bryan Rosengrant)
The reality is that unless you buy an unusually thick and sturdy door chain system, it WILL NOT provide you with any real security. Any 8 year old could kick hard enough to defeat most of these chains.
I recommend you avoid them and focus on improving the quality of your door locks and the strength of the door itself (if you have a weak, hollow core door).
See Door Security System for things you can do to improve the security of a weak door.

The Role Of Security Gates

If you have a strong metal security gate in front of your outside doors, it's alright to have a LESS secure locking system on your door, since you aren't relying on it to keep the criminals out.
Before you accept this situation, though, be sure that your security gate really IS good enough:

Is it a well known brand of security gate?
Is it securely fastened to the door frame?
Does it have a high quality locking mechanism?
Did you try to skimp on the quality of the gate to save some money? (Just checking!)

When it comes to your home security door locks, it really makes sense to spend a little bit more to get something of high quality that you can trust your life to.

It's not just about burglary...

If you're thinking that it's not worth all this trouble to secure your doors since you have insurance...

...I'm afraid you're overlooking something!

The Risk Of A Home Invasion

Home invasions are when criminals break into your home while you're there in order to rob you and possibly kill you. The kinds of criminals that commit this crime are the worst of the worst and often rape or torture families, in addition to stealing their valuables.

One of the ways they get in is by kicking down your front door. The reason I said "THEY", is because home invaders almost always work as a team of between 3 and 10 individuals.

So if you're lacking the motivation to change your home security door lock, think of the possibility of a home invasion.
It's not worth the risk to yourself or your family! Just install the right locks and be done with it!

Such A Simple Procedure

Choosing and installing high quality home security door locks is not difficult or complicated. Yet...
...SO many people have many silly reasons and excuses for not doing so.

Consider the risk you're taking by being one of those people.

Consider the risk to your loved ones.

It's worth a little bit of cost and inconvenience to get decent door locks to ensure your family's safety.
Choose to make a positive change in this area of your overall home security system as soon as possible if you know your doors are not as safe as they could be.

If you ever find yourself under criminal attack, you'll be VERY glad you did!

---
Did You Enjoy This Page?

Join my "Critical Crime Updates" email list. You'll be notified of all new and updated pages, get exclusive self defense and home security advice AND...
...I'll throw in 2 FREE gifts!
My 13 page "Quick Guide: Mental Skills Of Self Defense" (PDF format)

BONUS: A 23 minute, 3 track Audio Version of the quick guide (MP3 format)



Just fill in the form below and click "Get Started"!

---
Related Pages